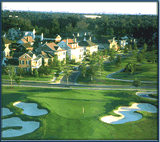 People are Just Discovering Daniel Island South Carolina
Our island town is drawing more new residents from more areas across the country than ever before! Daniel Island's 2003 record residential sales volume of over $174 million represents a 70% increase over 2002's record volume. And, buyers in 2003 came from 36 states plus the District of Columbia and the Virgin Islands. As recently as 2001, Daniel Island's sales primarily pulled from the Charleston area. The strength of Charleston as a destination, combined with our national advertising campaign, has generated the interest of people from around the country who want to live in Charleston or who are looking for a change in lifestyle. And the island's mix of traditional neighborhoods, recreational opportunities, growing downtown, schools and friendly small town atmosphere arc proving to be exactly what many buyers are looking for these days. Daniel Island has been getting more ink than ever before. We've been discovered by an assortment of writers and publications, and stories about various aspects of our island community haw appeared in dozens of regional and national publications in recent months, including GolLinks Magazine, Travel & Leisure Golf, The New York Times, USA Today, Where to Retire, and more. Be sure to look for stories about the island In up coming issues of your favorite magazines and news papers this year.


Discover Daniel Island and Charleston this year!
With so much happening on Daniel Island, it's the perfect time to come see what's new in our community and in Charleston. Our Island Discovery Packages are a great way for prospective residents to learn more about the Daniel Island lifestyle. Combine a real estate tour of the island with an overnight stay on the island or at a historic Charleston hotel or inn. Add tennis, golf or a guided tour of historic Charleston to round out your stay. Our team of ten knowledgeable sales associates can help you schedule your visit and provide rates and additional details. Call us today for more information, and be sure to check out our video.


Daniel Island's Healthy and Active Lifestyle
Ask any island resident what they like most about island living, and chances are their answer will have something to do with the healthy and active lifestyle this special community offers. It may be the access to hundreds of acres of parks and 23 miles of rivers and creeks, offering active recreation for the entire family. Or maybe it's the instructional and training programs at the island's world-class golf, tennis and soccer facilities. For others it may be access to the programs at Prevecare, the island's new preventive health care and pro active wellness facility. Access to the fitness centers in town and at the private Daniel Island Club is also important to many residents. In any case, the message is clear: enjoying a healthy and active lifestyle is an integral part of living on Daniel Island. The island's Expansive Trail System Along with the development of the island's neighborhoods and downtown over the years has come the ongoing development of a system of trails and pathways that connect neighborhoods, parks and downtown areas. This system has grown to include nearly ten miles of separate hut connected loops that wind through the island's scenic landscape. Later this year, a fitness trail will be added to one of the loops and a trail map will be produced and available to help those who choose to explore the island by foot or bicycle.


Preparations are underway for this year's Family Circle Cup
Scheduled for April 10-18, this annual event draws athletes and visitors from around the world to the island each spring. Defending champion Justine Henin-Hardenne returns this year to defend her title after beating Serena Williams last year in an exciting find match and rising to become the world's current No. 1 ranked player. Serena will also be returning, along with her sister Venus. This will be the sisters' first Tier 1 clay court event played together since 1999. This year's tournament promises to offer an exciting competition along with an array of special events and activities. For ticket information, call 800-677-2293. And if you're not able to join us, be sure to watch the semi-final and final matches on ESPN. The tennis center was also recently chosen to host the USA League Tennis Southern Sectional Championships in 2005 and 2006. This event is widely regarded as the "World's Largest Tennis Tournament," drawing over 2,000 players to compete each year.


The Battery Set to defend National Title
Charleston's professional soccer team, gets set to defend their 2003 A-League Championship title April 17th with the first game of the season against the Richmond Kickers. And fans are getting ready to cheer on the team at their first home game of the season April 24th on Daniel Island. Battery games at Blackbaud Stadium are great for the whole family, Featuring concession areas, a children's interactive theme park and an English-style pub, this state-of-the-art 5,100-seat stadium has twice been nominated by U.S. Soccer as one of the best soccer stadiums in the country.


Infrastructure and new roads are being added
to the south end of the island, literally paving the way for the addition of two new island neighborhoods. Conveniently located within easy walking distance of the new elementary / middle school, the neighborhoods of Pierce Park and Smythe Park will offer a wide variety of homes and town homes. The recreational centerpieces these two neighborhoods will the brand new marsh front pool at Pierce Park and a 16-acre neighborhood park featuring a 12-acre lake, walking trails and more in Smythe Park. Construction on Smythe Park is scheduled to begin later this year. In Daniel Island Park, the island's golf and country club-oriented neighborhood, a new selection of home sites will be offered later this year. Located within close proximity to the Daniel Island Club's swim, tennis and fitness facility, some of these home sites will feature views of the club's Fazio golf course. Contact your us for details. We're adding new opportunities for urban living in the heart of our island town with the introduction of the 200 River Landing Drive condominiums this year. Currently under construction, these up scale condominiums are located within walking distance of most of the island's conveniences and amenities, including shops, restaurants, businesses, schools and a supermarket. Three 30-unit buildings are planned, offering spacious two and three bed room layouts. Shared outdoor amenities include a three-acre natural park, a swimming pool, water plazza and an area for outdoor grilling. Buyers were eagerly awaiting this unique opportunity. Thirty units within the first building, priced in the $200s and $300s, were released in mid-February and have already sold out. Call us about the future releases of the upscale condominiums and other upcoming downtown living options.


Home Magazine's American Home of the Year
Island builder Kalman Construction has teamed up with Home Magazine to build the 7,300 sqft. "Clubhouse Cottage." Located on a beautiful wooded home site in Daniel Island Park over-looking hole 9 of the Tom Fazio golf course and the Daniel Island Club's spectacular clubhouse, this exquisite home celebrates Daniel Island Park's unique club lifestyle. Home Magazine will be featuring the home in several upcoming issues. But those curious for a sneak preview don't have to wait that long to get a glimpse inside. The home will be open for tours starting April 15 through Memorial Day, and proceeds from the tours will benefit the Charleston affiliate of the Susan G. Komen Breast Cancer Foundation. For tour hours and other information give us a call.


Construction on Rees Jones Course Continues
The new Rees Jones designed golf course at the private Daniel Island Club began early this year. Extensive tree spade work will relocate over 70 trees within what will soon be fairway corridors - including 20 trees in excess of 30 inches in diameter - enhancing the aesthetics and beauty of the new course and adjacent property. This step ensures that many of our island's oldest and most significant trees will be preserved for club members and residents to enjoy. Once this phase is complete, work on the course will continue with the clearing, major earthwork and draining phases. The Fitness Center at The Park Club, the center of the club's swim, tennis and fitness activities, celebrated the new year by opening a new fitness center in January - just in time to help Daniel Island Park residents and club members work on their new year's fitness goals! This impressive facility features Cybex cardio and circuit training equipment, an aerobics studio, massage therapy rooms, juice bar and locker rooms complete with steam rooms, all within a light-filled building offering views of the Park Club's pool and lushly land-scaped relaxation areas. The center's team of fitness professionals includes two personal trainers, several aerobics instructors and a massage therapist. The Fitness serves as the check-in point for the club's tennis programs, scheduled to expand this year with the addition of four new har-tru and two new fast-dry courts, giving the club a total of 10 tennis courts. Golf enthusiasts look forward to tournaments like the annual Daniel Island Cup and men's and ladie's member guests tournament, while less formal golf events like Couples Golf, blitzes and holiday-themed tournaments satisfy golfers of all skill levels. The clubhouse provides the perfect venue for an array of social and dining events that range from monthly themed family dinners and oyster roasts on the back patio to wine tastings and black tie galas.The Park Club is a favorite spot for summer pool-side events like cookouts and the annual Labor Day Seafood Boil, as well as events and mixers for tennis buffs. With so much going on, it's no wonder why so many club members consider the club an extension of their family! Island resident and Daniel Island Club member Arthur Quinby and his wife Kim, who recently moved to Daniel Island from California, say they've met more people here in one year than they did the entire 20 years they lived out west.


With the increasing demand for residential real estate
on the island has come growing interest from retail shops, restaurants and other businesses and conveniences. We recently welcomed several new professional offices to the island's downtown, including Parkwood Pediatrics, Daniel Island Animal Hospital and two new dentists' practices. The Island Market (offering a convenience store, gas and a car wash) and Coastal Carolina Cleaners are adding to the convenient services for residents on the island. New restaurants like Dragon Palace, a new local favorite for upscale Chinese cuisine, and Cinamoonies, featuring salads, pizza and pita sandwiches, are providing expanded dining options. And retail shops like Daniel Island Design and Island Baby are the latest shop- ping destinations. We're also thrilled that several of our island builders have chosen to make Daniel Island their home base, opening offices at various locations in the island's downtown. Coming Soon Construction has begun at a key intersection in town on a 50,000 sq. ft. building that will be home to a First Citizen's Bank and a variety of other tenants. Down the street, a new restaurant from the acclaimed former chef of the five-star Woodlands Resort & Inn is scheduled to open this spring. Prevecare, which recently added a Breast Center offering digital mammography and welcomed the Charleston Rehabilitation Center as a new partner, is expanding its campus to offer additional partners and services dedicated to providing preventive healthcare and wellness programs. Next door, the Alexan Daniel Island apartments are under construction. This 182 unit apartment complex by Trammel Crow Residential will offer additional living options in the island's downtown.


The announcement last year that a public elementary & middle school
would be built on the island has generated much buzz in the Charleston community. Centrally located within walking or biking distance of most students' homes, this community-based school is positioned to become one of the best public schools in the State. Construction on the school will begin later this year. Meanwhile the Daniel Island Academy, an Early Childcare Center serving ages 1-4, is under construction and will open for classes in August. The school will be one of less than a dozen in the Charleston region accredited by the National Association for the Education of Young Children. The Academy is accepting applications and registrations now, and is already more than halfway filled to its capacity of 300 students. Last year, the Daniel Island Community Fund established its mission to support civic and social programs on Daniel Island underserved communities of Cainhoy, Huger, Thomas Island Wando. A private 501(C)4 funded primarily by transfer fees from sales of existing homes, homesites, and commercial real estate on the island, the Fund has recently helped agencies establish several much-needed programs in these surrounding communities. Recent educational initiatives supported by the fund include helping both the areas Boys and Girls Club and Junior Achievement to establish programs at Cainhoy Elementary/Middle-School, and the establishment of an annual scholarship program that will allow gifted students at Cainhoy Middle School who demonstrate financial need to attend Bishop England High School on Daniel Island.


From sporting events like the Family Circle Cup to festivals of all kinds
Charleston's array of popular special events helps make the city one of the country's top places to visit and live. If you're planning a trip to Charleston this Spring, consider timing your visit to coincide with one of these two very special Charleston events.

Charleston International Antiques Show (March 19-21) - More than 30 of the world's preeminent antiques deal- ers will participate in this event organized by the Historic Charleston Foundation. With a concentration on period Furnishings and decorative pieces, the show will offer a diverse range of antiques and a variety of educational lectures. Call (843) 722-3405 for more information.

Spoleto Festival (May 28 -June 13) - This annual international arts extravaganza features fine arts exhibits and theater, opera, dance and music performances at venues throughout historic Charleston and is widely acclaimed as one of the top arts festivals in the world. This year's festival will feature dozens of productions, including performances by Mikhail Baryshnikov and the Westminster Choir. The festival's popular finale takes place at Middleton Place plantation and features a performance by the Spoleto Festival Orchestra and a dazzling fireworks display over the Ashley River. For details, visit spoletousa.org. For more lnformatron on real estate opportunities at Daniel Island, call Mac Ridgeway with Prudential Charleston Real Estate at 843-442-4814.
&copy 2004 Daniel Island Real Estate, this has been reproduced with permission from Daniel Island Real Estate.

Real Estate on Daniel Island South Carolina Neighborhoods and Homes for Sale