---
DANIEL ISLAND REAL ESTATE:
---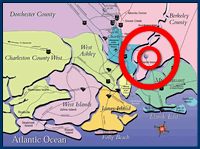 Price range:
Condos and Single Family Homes: $175,000-$3M
Vacant land: $230,000-$5.7M
DANIEL ISLAND:
Situated between the Wando and Cooper Rivers, Daniel Island is five miles long and 3 miles wide and has 23 miles of water frontage. Not too long ago, Daniel Island was farm and marsh land. Today, it thrives with a broad collection of carefully planned residential communities, restaurants, shops, stores, businesses, and schools.
Many of Charleston's larger company headquarters are located on Daniel Island. Blackbaud, a leading developer of computer software for charities, SunCom wireless, and CSS, a software consulting firm all have decided have large offices here. BenefitFocus has recently announced their plans to open spacious new offices on the Island as well. As such, many of Daniel Island's residents are able to reside, shop, play, and work all without leaving the area. To add to its appeal, Daniel Island is centrally located northwest of Charleston, off I-526 and is just a short distance from the old city, North Charleston, East Cooper and West Ashley.
There are currently six residential areas on Daniel Island, listed alphabetically below.
Barfield Park
Located on the eastern edge of Daniel Island, Barfield Park is a marsh- and water-oriented neighborhood featuring a natural-style park that overlooks the Wando River. Construction of the neighborhood's first homes, built by national builders David Weekley Homes and John Wieland Homes, began in the spring of 2000. In addition to the neighborhood park, which offers marsh and water views from winding paths and a covered picnic pavilion, neighborhood residents enjoy close proximity to downtown Daniel Island.
Center Park
Homes in Center Park were built beginning in '00. A two-acre landscaped park with walking paths and two innovative play structures is the centerpiece of this neighborhood. Surrounding the park are Classical-style brick townhomes built by Ceystar Homes which feature iron balconies, private walled gardens and a high level of detail. The first single family homes in this neighborhood are being built by national builders D.R. Horton and Palmetto Traditional Homes.
Codner's Ferry Park
The final homes in Codner's Ferry Park, the Island's first neighborhood, are now nearing completion. With a one-acre park at its center, this neighborhood also features close proximity to a community boat ramp, the pool at Scott Park, and Bellinger Island, Daniel Island's nature preserve. Homes are built by regional custom builders and feature marshfront (some on deepwater with private docks), park or interior views. Codner's Ferry Park homes are priced from the mid $300s to the $600s.
Cochran Park
This water- and marsh-oriented neighborhood features elevated homes to take advantage of magnificent views. Homes in this neighborhood currently are being built by national builders D.R. Horton and David Weekley Homes and Charleston-based custom builder Passailaigue Home Builders.
Daniel Island Park
Located on the northern end of the Island, Daniel Island Park is inspired by the great old suburban neighborhoods of the 1920s and 30s and the work of landscape architect Frederick Law Olmsted. This special neighborhood enjoys the Daniel Island Club's 18-hole Tom Fazio-designed private golf course as its centerpiece. Homeowners in this neighborhood automatically become Park Club members, allowing them access to the swim, tennis and social facilities of the private-membership Daniel Island Club. They also have the option to become golf members of the Club. Homes in Daniel Island Park are built by members of a team of independent custom builders and require the use of both an architect and landscape architect registered in the state of South Carolina.
Etiwan Park
Etiwan Park was the second neighborhood to be established on the Island. The focal point of this neighborhood is a seven-acre park owned by the City of Charleston that features basketball and volleyball courts and a picnic pavilion. Residents of this neighborhood also enjoy close proximity to Bishop England High School, the pool at Scott Park and downtown Daniel Island. Etiwan Park homes are built by national builders D.R. Horton and David Weekley Homes.
---
Downtown Charleston Real Estate:
---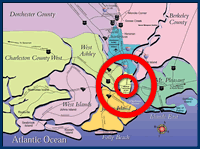 Price range: $350,000-$7M


Downtown Charleston is a peninsula extending out into Charleston Harbor and separated on either side by the Ashley and Cooper Rivers. It is steeped in tradition, culture, and charm and the homes that grace downtown are reflective of all of these characteristics. With traditional, Southern style architecture, expansive porches, shutters, and gas lamps that burn consistently, these gorgeous homes are reminiscent of old Charleston and its rich history.

Unlike most of Charleston, downtown is made up of different geographically distinct areas rather than formal subdivisions and neighborhoods. Each area has its own distinct flavor and price point. Some of the most noteworthy from the standpoint of history and beauty are The French Quarter and South of Broad. The French Quarter is in the heart of downtown and is distinguishable by its French roots and architecture. South of Broad is the most exclusive part of downtown and perhaps the entire state. Located within the South of Broad vicinity lie the Battery and Rainbow Row. The Battery refers to the waterfront properties in and around Battery Park. Rainbow Row is a famous section of colorful row houses running along the Cooper side of the peninsula.

Because there are so many areas, we cannot mention them all here but are happy to discuss further so if you have questions or would like more information, please do not hesitate to contact us!
---

THE BRISTOL: Price range: $500,000-$1.2M
This beautiful condominium community offers luxurious 2 and 3 bedroom units. This is the best of Charleston and the Lowcountry lifestyle as it incorporates the charm, restaurants, arts, and shops of historic downtown Charleston with waterfront location, spectacular views of the Ashley River, and access to a brand new 154-deep water slip marina.
---
Folly Beach Real Estate:
---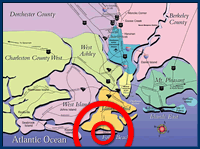 Price range:
Condominiums: $225,000+
Single family homes: $400,000-$2.6M
Folly Beach is a laid back beach community, fondly referred to as the Edge of America. Hippies, artists, students, surfers, and businessmen alike call Folly Beach home and it attracts thousands of visitors each year who are drawn to the relaxed, casual lifestyle that Folly has to offer.
Prices have shot up over the past couple of years and growth is abundant. The majority of the homes on Folly are still beach bungalows but the newest trend is that people are selling them for attractive profits and beautiful new, luxury beach homes are going up rapidly.
Center Street is the main street that runs through town and it features lots of casual, relaxed restaurants, bars, and shops such as the Crab Shack, 11 Center Street, 1 Center, Planet Follywood, The Lost Dog, Snapper Jack's and the infamous Sand Dollar Social Club.
Although prices have increased rapidly on Folly, it is still a wonderful place to buy for investment, a primary residence, vacation home or a combination thereof. The growth is not expected to slow down any time soon so it's a great time to get into the market here.
Folly Beach does not have many subdivisions (although there are a few condominium/town home developments) but instead homes are referred to as "first row", "second row", etc. and the properties are, naturally, priced according to proximity to the beach. Therefore, we've offered some basic information here and, if you are interested in finding out more, please don't hesitate to contact us. One of our team members is an expert on Folly Beach and does most of his work there so he's a great person to talk to about the opportunities on Folly.
---
Goose Creek Real Estate:
---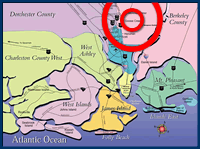 Goose Creek is located 30 minutes north of Charleston and has a population of right around 32,000. Goose Creek has a more country feel than Charleston as the surroundings are much more rural. As a result, you get more for your money - bigger homes with more land.
---

CROWFIELD PLANTATION: Price range: $120,000-$410,000
Located in the Goose Creek approximately 30 minutes north of historic Charleston, Crowfield Plantation enjoys a unique history and is recognized as one of the most significant dwellings and gardens of the colonial period. The original grant of this land dates back to 1701. Remains of the Plantation are still protected and have been nominated to the National Registry of Historic sites.

Today, the area is used for residential and commercial purposes. The development sits on 2,850 wooded acres and is comprised of 17+ unique neighborhoods with a size and floorplan for everyone. Homes with 2 bedrooms and 2 baths with just under 1,100 square feet currently go for about $120,000 while homes with 6 bedrooms and 3.5 baths with 3,465 square feet currently are priced at $410,000. Each residential neighborhood enjoys ponds, parks, 20+ acres of hiking-biking trails and access to golf club memberships, tennis, pools, picnic areas and a 70-acre lake. The Plantation is home to Crowfield Golf and Country Club, an award winning 18-hole golf course with views of the lake and old plantation ruins. Other club amenities include a full service clubhouse, pro-shop, tennis courts and a separate pool. Plantation residents receive special rates.
---

ASHTON AT DEVON FOREST: Price range: $130,000-$175,000
Devon Forest is located just 5 minutes from Goose Creek's town center, 10 minutes from I-26 and 30 minutes from downtown Charleston. 3 and 4 bedroom/2 and 2.5 bath traditional and ranch style homes that are moderately priced in a well kept neighborhood where pride of ownership is apparent. Berkeley County schools are located within the community.
---

LONGFORD PLACE: Price range: $165,000-$217,000
This subdivision is located off Highway 176, just north of Goose Creek. Choose from ranch and traditional style homes with a variety of up-to-date floorplans featuring sunny, open living space, 3 or 4 bedrooms, and modern features such as pantry, laundry room and more. Longford Place offers a perfect opportunity for first time buyers and those with young children as the schools here are some of the best in Berkeley County.
---

WOODLAND LAKES: Price range: $190,000 to $215,000
This Goose Creek neighborhood has some homes built in the late 80s and early 90s as well as homes that are currently under construction. Homes are ranch and traditional style, with 3 and 4 bedrooms/2 and 2.5 baths. An HOA maintains the common areas, lake, and park. An added feature of this neighborhood is its proximity to the new Goose Creek Recreation Department which has an elevated walking trail and 2 gyms.
---
Hanahan Real Estate:
---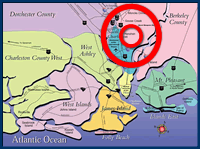 NEED DESCRIPTION
---

TANNER PLANTATION: Price range: $124,000-$500,000
This traditional Hanahan community is located off of North Rhett Road with easy access to I-526. Tanner Plantation has many subsections and includes multifamily as well as single family homes ranging from a 2 bedroom/2 bath triplex with 1,100 square feet to a 4 bedroom/2.5 bath townhome to a 4 bedroom/3.5 bath single family home with approximately 2,800 square feet. The Hanahan schools have an excellent reputation so if that is a factor, this could well be a good choice for you.
---
Hollywood Real Estate:
---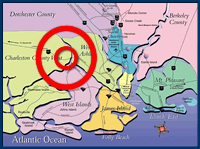 NEED DESCRIPTION
---

STONO FERRY: Price range:
Townhomes: High 200,000s +
Single family homes: $389,000+
Located just 20 minutes south of Charleston in Hollywood, The Plantation at Stono Ferry lies along the Stono River. Many of the homes are situated on the Inter-coastal Waterway, the river, marshlands or on pasture lots around the Equestrian Center and polo field. A handful of the homes also have tidal creek water access.

There are also 135 homes situated around the "Links at Stono Ferry" golf course, a beautiful championship golf course which overlooks the Inter-coastal Waterway. Three bedroom/three bath townhomes are available starting in the high $200s and three bedroom/three bath single family homes begin at $389,000.
---
James Island Real Estate:
---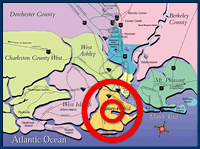 James Island is a wonderful community, located less than 10 minutes from Folly Beach and just about 10 minutes to downtown. James Island was once considered "far away" from Charleston but today, the growth of the area has caused it to be considered centrally located. There are many different neighborhoods on James Island so there is a vast array of options as far as age, home styles and features, size of community, type of land, price and location.
---

AFFIRMATION OAKS: Price range: $400,000-$550,000
This new James Island neighborhood is located on Harbor View Road, near the Piggly Wiggly. All home designs feature 3, 4, and 5 bedroom homes with 2.5-3.5 baths and most include front porches. This neighborhood is close to schools, shopping and the downtown connector.
---

JAMESTOWNE VILLAGE: Price range: Upper $200,000s
Tucked in a quiet neighborhood off of Bluff Road (take Folly Road to Fort Johnson), this is a delightful community built in 2002 featuring traditional style homes with large porches, ponds, and its own little post office. Many young couples, families, and professionals make their homes in Jamestown Village and pride of ownership is apparent. Floor plans range in size from 1,200 to 1,900 square feet.
Note: This is one of my very favorite neighborhoods if you are looking for a reasonably priced home in a friendly, quaint, charming area with traditional, low country style.
---

PAW PAW PLACE: Price range: Mid-$300,000s
Paw Paw place is a "pocket neighborhood", a very small community of unique, traditional, bungalow style homes in a wooded setting located off of Maybank Highway, just minutes from downtown Charleston and the beach. These beautifully built homes feature 3 bedrooms, 2.5-3 baths and lot size averages about one-quarter of an acre.
---

RIVERLAND WOODS: Price range $140,000-$200,000
Condominium community located on James Island, just 4 miles from Folly Beach and 5 miles from downtown Charleston. Units feature balconies, patios, sunrooms and much more. Amenities include a swimming pool, kid's corner, picnic area, volleyball court, executive center, tennis, and a fitness center. Units are 1050-1440 square feet.
---
John's Island Real Estate:
---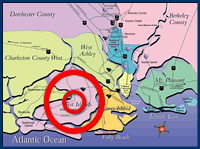 John's Island is a rapidly growing portion of Charleston. Like James Island, it was once considered to be quite remote but today, it is one of the hottest areas of growth and home prices are reflecting that. That said, there are still many undeveloped and beautiful areas on John's Island with marsh views, river views, and lots of wooded areas and, due to the new construction, there are many, many lovely communities from which to choose.
---

HEADQUARTERS ISLAND: Price range:
Condominiums: Beginning at $319,000
Single family homes: Beginning at $500,000
This beautiful, secluded island in John's Island is surrounded by marsh and water and is completely private. Located off Maybank Highway near the Stono River bridge, you will feel like you are in the country when in actuality, you're just 15 minutes from downtown.

The community has two sections. Stono Watch is a condominium complex and Headquarters Plantation is made up of gated, single family homes on generous lots. The condos range from 1,500 to 1,700 square feet and each have three bedrooms and three full baths. All units have marsh or pond views.
All of the homes on the Island are elevated, many with drive-under garages. Homes with four bedrooms, 3.5 baths currently go for $500,000.
Note: We love this private, secluded oasis.
---

VILLAGES IN ST. JOHN'S WOODS: Price range: $330,000+
This lovely community of Lowcountry inspired homes with an old country look and feel is located about 20 minutes from downtown Charleston. The neighborhood is graced with beautiful trees and moss draped oaks and features a six-acre park, with swimming pool and deck area, picnic and playground areas, a multi-purpose playing field and a community pavilion. John's Island.
Note: We love St. John's Woods because the builders didn't sacrifice the beautiful oaks during development, which adds to the traditional, Lowcountry feel of the neighborhood. We also like the family oriented atmosphere and the central location.
---
Ladson Real Estate:
---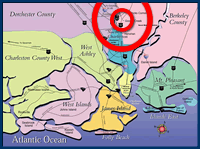 Needs Description
---

TALL PINES: Price range: $149,000-$200,000
This nice community is far enough from the hustle and bustle to be peaceful yet close enough to I-26 to be convenient. Tall Pines features lovely older homes as well as newer construction in ranch and traditional styles. The HOA maintains a pool, clubhouse and play area.
---
Monck's Corner Real Estate
---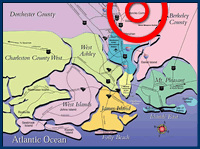 Located about 40 minutes from Charleston, Monck's Corner is approximately 12 miles further north than Goose Creek. The population is small (xxx) and Monck's Corner is very rural with larger lots and bigger homes for your dollar.
---

PIMLICO PLANTATION: Price range: $195,000 to $325,000
An established community in Monck's Corner including older (1970s) and newer (2005) homes with 3 and 4 bedrooms, as well as some homesites. Approximately forty years of design and construction has produced a wide variety of styles, from small ranches to large, contemporary
---

STONY LANDING: Price range: $200,000 and $300,000
Located near Moncks Corner in Berkeley County, Stony Landing is a new, upscale community with homes of superior construction quality, open floorplans, hard wood floors and more, all set on oversized lots. Homes are comparatively larger with 3, 4, and 5 bedrooms with 2-3 bathrooms.
---
Mount Pleasant Real Estate:
---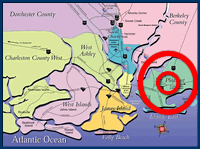 Mount Pleasant is considered to be one of the most upscale, sought after communities in Charleston and, as such, there are a myriad of neighborhood developments ranging from older, charming Charleston style homes to brand new, upscale luxury with all sorts of options in between. Shem Creek, a wonderful spot on the waterway with restaurants such as Vickery's, etc., is a fun place to go for happy hour or you can bring your boat right up to the dock at these restaurants and bars. During the summer months, Mount Pleasant has a farmer's market each Tuesday.
---

BELLE HALL PLANTATION: Price range: Mid $300s to $1.35M
Located off of Long Point Road, these lovely homes are traditional in style with 3-4 bedrooms/2-4.5 bathrooms and floor plans of 1,450-4,250 square feet. Some of the homes are situated on the marsh. The neighborhood elementary school is the highly rated Belle Hall Elementary School. Belle Hall's amenities include a clubhouse, tennis courts, pool, play park and volleyball court.
---

BRAEMORE: Price range: $615,000-$825,000
This smaller, Mount Pleasant neighborhood is located off of Muirhead Road, just between Molasses Creek and ION. There are only about 30 homes in the neighborhood, built in traditional Lowcountry style with large porches. Homes are large (3,000-4,000 SF) with 4-5 bedrooms and 3-5.5 bathrooms and beautifully constructed with modern, open floor plans, hardwood floors, and Hardiplank siding/solid brick exteriors. Lots are between ¼ - ½ acre and are heavily wooded, creating a natural look and beauty.
---

BRICK YARD: Price range: $379,000-$2.6M
Brickyard Plantation is a Mount Pleasant subdivision, established in the early to mid 90s which offers solid value for your money. It features a variety of unique neighborhoods with larger, 4 & 5 bedroom homes ranging from 1,700-8,500+ in square feet. Amenities include a clubhouse, tennis courts, swimming pool, dock facilities and community boat launch.
---

DUNE WEST: Price range: Please see below
Dunes West is a lovely, upscale community protected by gates and a guardsman that offers beautiful homes, exclusivity and resort living. Mature oaks, palm trees and palmettos line the streets, the scent of jasmine fills the air, and views of the marsh and Wando River are prevalent. Located outside of Charleston near Mount Pleasant and close to the beach, this community offers natural beauty, amenities such as swimming, golf, tennis, and a marina, and vast open spaces in which to bike or enjoy morning or evening strolls through the neighborhood. It's a delightful neighborhood to enjoy summer evening BBQs, an iced tea or a cocktail on the front porch, tennis, golf or bridge with friends and a superb, secure community to call home. Prices are on the higher end but vary greatly as vacant land, single family homes, interval (time share) properties, townhomes and villas are all available, so please call for more details.
---

EASTWOOD TOWNHOMES: Price range: $200,000-$250,000
This central Mt. Pleasant location has 33 two-and three-bedroom townhomes. Starting at 1,100 square feet and two full baths.
---

GRASSY CREEK: Price range: $550,000-$800,000
Located near I-526 and Long Point Road, this prestigious neighborhood features custom Charleston style homes on large marshfront, tidal creekfront, and wooded interior lots. Amenities include a community dock & gazebo as well as a play park.
---

HAMLIN PLANTATION: Price range: $240,000-$900,000.
This 1,350-acre tract is located off of Highway 17 and Rifle Range Road. The development is comprised of traditional style town homes and single family homes with 3, 4, and 5 bedrooms and 2.5-4 bathrooms. Sizes range from 1,250-3,650 square feet and many have large porches. Amenities include pool, tennis court, club house, play park, and exercise area.
---

I'ON: Price range: High $400,000s-$2.6 million
ION is an upscale, picturesque neighborhood located in the heart of Mt. Pleasant and features traditional, downtown Charleston architecture with a bit of land - it's likened to downtown in the suburbs. All of the homes are custom built by ION approved builders to maintain the very high quality construction, look, and feel of the neighborhood. The charming homes feature traditional floor plans, nearly all of them complete with expansive front porches, and many with views across the lakes and marshes of the community. There is a quaint "downtown" with restaurants, boutiques (the new shoe store features a wine tasting each Friday night when you can go enjoy a glass of wine and view the latest in shoe fashions), and a spa as well as a community tennis court, pool, club house, workout facility, walking trails, dock facilities and boat ramp.
---

IVY HALL: Price range: Low $200,000-high $400,000
Built by Don Galloway Builders, homes in this subdivision feature 3-4 bedrooms on smaller lots and are well priced for younger buyers or retirees who are ready to downsize. Ivy Hall is situated approximately 25 minutes from downtown Charleston.
---

MOLASSES CREEK: Price range: $450,000-$920,000
This beautiful neighborhood of quality craftsmanship, custom built homes is located just over the bridge from downtown. Homes are larger, 3, 4, and 5 bedroom/2.5-4.5 bath homes ranging from 2,100 - 4,500 square feet and rarely come on the market.
---

OLDE PARK: Price range: $900,000-$1.7M
Olde Park is a very high end community of impressive new custom designed homes whose charm and style is reminiscent of older Charleston neighborhoods. There are approximately 100 homes in Olde Park, all of them large as the minimum size requirement is 2,500 square feet. Olde Park homeowners can share amenities with neighboring I'ON CLUB which includes pool, tennis courts, country club and boat ramp. The lovely, stately homes, grand entrances and beautifully maintained landscaping creates a stunning Lowcountry community.
---

THE OLD VILLAGE OF MOUNT PLEASANT: Price range: $400,000-$3M
Dating back to the Revolutionary War, The Old Village was the first established neighborhood in Mt. Pleasant. It features historic homes with views of the Charleston Harbor and is just 10 minutes from downtown and 15 minutes from the beach. The neighborhood has maintained its exclusivity and historic charm due to stringent community standards and pride of ownership.
---

PALMETTO ISLE AT RIVERTOWNE COUNTRY CLUB: Price Range: $350,000-$550,000
New home community with riverside setting in Mt. Pleasant. Natural beauty overlooking the waters of Horlbeck Creek and the Wando River. Golf course community with a swim club, tennis pavillion, clubhouse, walking and more. Palmetto Isle of Rivertowne COuntry Club features 1,718 to 2,534 square feet homes.
---

PARK WEST: Price range:
Homesites: $185,000-$450,000
Homes: Low $200,000s to $1,400,000
Park West is a resort-like yet family oriented 1,700 acre neighborhood encompassing more than 1,900 homes in twenty distinctive neighborhoods. Situated in the East Cooper area of Mt. Pleasant, this community is just minutes from the ocean and is surrounded by miles of riverfront, deep-water tidal creeks, biking and jogging trails, a huge sports complex, playgrounds, ball fields, a swim and tennis club, schools, childcare, a grocery store as well as retail shops and professional businesses. The area is still growing with plans to build up to 3,000 homes, an additional elementary school next year (2006), and a town square. Park West neighborhood has been - and continues to be - extremely well thought out by developers Pat Tomlin and Bill Bobo in order to uphold and maintain the charm, unique character, and traditional, Lowcountry style architecture that make Park West such a desirable place to live.
---

PLANTERS POINTE: Price range: $280,000-$549,000
Homes in this relatively new subdivision range between 1,500 and 2,800 square feet with 3-5 bedrooms/2-4.5 baths. Tract builders have built many of the homes but there are also a number of homes going up by semi-custom builders. New and resale homes are available and buyers will appreciate the value for the money in this community. Amenities include clubhouse, tennis courts, swimming pool and play area.
---

SEASIDE FARM: Price range:
New condos (coming in 2006): $370,000
Town homes and single family homes: $360,000-$1.24M
Convenient to the beaches and downtown Charleston, Seaside Farms offers new luxury condominium living as well as town homes and single family homes. The luxury condos at Winward Point will be coming in 2006 and will feature stainless steel appliances, granite countertops, fireplaces, open floor plans and 3 bedrooms/3 bathrooms. All will have lake views and will be walking distance to retail stores, restaurants and grocery store. Condos are approximately 1,600 square feet.
Town homes and homes range from 2-5 bedrooms/2 - 4 full, 2 half bath homes with square footage from 1,600 to 3,700.
A supermarket, retail shops and restaurants are all available in this neighborhood, as are pool and play park.
Note: Because there is such a range of options in this neighborhood, the information listed here is fairly broad. Please call us to learn more about current availability, floor plans and pricing.
---
North Charleston Real Estate:
---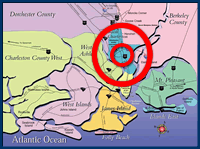 Needs Description
---

COOSAW CREEK: Price range: $335,000-$655,000
Coosaw Creek is a hidden gem, designed for golf lovers who desire a private setting. This secluded, gated, 645-acre residential community features gracious, traditional, southern style homes. Outstanding amenities include The Coosaw Creek Country Club which features an Arthur Hills designed golf course and beautiful new clubhouse, tennis courts, a pool and facilities, and recreation center with a cabana grill. Homes range from 3 bedroom/2 bath with 2,100 square feet for $335,000 to 6 bedroom/4.5 bath with 5,000 square feet for $655,000.
---

LAKE PALMETTO: Price range: approximately $210,000-$240,000
No expense was spared in the building of these luxury, 2, 3, 4, and 5 bedroom townhomes located off Montague Avenue across the street from the North Charleston Convention Center, with easy access to major freeways. The back deck of each unit extends over a private, 25 acre spring fed lake. The overhanging deck doubles as a dock, giving homeowners not only spectacular views, but also the ability to fish or keep a kayak or canoe. All units have a minimum of two full baths and a half bath. Coming to the area soon are the New World Trade Center, Sam's Club, Super Wal-Mart.
---

NORTHWOODS POINTE: Price range: $150,000-$225,000
Located just off Highway 78, close to Charleston Southern University, Northwood's Mall and Trident Regional Medical Center, this is in an old-fashioned community nestled within all of life's conveniences. Northwood's Pointe features wonderful 3 and 4 bedroom floor plans ranging from 1,100-2,000 square feet for an affordable price-- perfect for first time home buyers.
---

OAK BLUFF: Price range: $110,000-$150,000
Condominiums located off Highway 52 on Greenridge Road near Wannamaker County Park, Northwoods Mall, several golf courses and numerous restaurants. The units range in size from 993 to 1,323 square feet and contain at least two bedrooms and 1.5 baths. The one-story plan has two bedrooms and two baths and has a base price of $102,990. The largest plan comes with three-bedrooms and 2.5 baths, with a base price of $108,490. The buildings have a vinyl exterior with brick trim. Each unit is a different color, and rooflines vary depending on the floor plan.
---
Summerville Real Estate:
---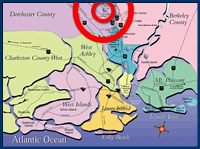 Summerville is known for its schools, small town atmosphere, and quaint downtown.
---

THE ARBOR: Price range: Right around $100,000
An affordable, cute, traditional style condominium community located in Summerville, just minutes to I-26, Main Street shopping, Dorchester II schools and the Summerville Medical Center. Each unit includes a fireplace, private brick patio and there's a community swimming pool, too. Many amenities in mostly maintenance free living situation! Floorplans feature two bedrooms, two and one-half baths and 1,200 square feet of living space.
---

ASHBOROUGH EAST: Price range: $200-$400,000
Located in Summerville, Ashborough East is an established Westvaco planned development and has the reputation of being a neighborhood of both quality and style. The development has been maintained well with its strong covenants and restrictions combined with community pride. Amenities include pool, club house, tennis court, and play park.
---

BRIDGES OF SUMMERVILLE: Price range: $160,000-$300,000
Located just off Midland Parkway, Bridges of Summerville offers the height of suburban living with a safe, peaceful family oriented environment. With 30+ different floorplans, there is a vast array of options to choose from to best fit your lifestyle with modern features and options such as vaulted ceilings, sunrooms, oversized master bedrooms and bathrooms with dual sinks and garden tubs, bonus rooms, gorgeous kitchens, large yards and much, much more. The family recreation center features a swimming pool, pavilion and entertaining area, sundecks, and a playground for the kids. This community is centrally located near the Summerville Medical Center, churches, shopping, and restaurants and the best schools in the area are just moments away.
---

COBBLESTONE RIDGE: Price range: $160,000-$215,000
This Summerville neighborhood features traditional style 3 and 4 bedroom homes at reasonable prices, perfect for first time homebuyers or young families. Located off 17A, Cobblestone Ridge has one entrance, limiting potential for drive-thru traffic. All homes feature modern amenities such as wood burning fireplaces and master suites with oversize bathtubs.
---

LEGEND OAKS PLANTATION: Price range:
Condominiums: High $150s-low $160s
Single family homes: $175,000-$200,000
A growing new home community in the heart of Summerville which has both condominiums and single family homes, Legend Oaks provides the very best in country club style living with a range of sizes, styles, floorplans, and options to fit almost everyone's budget. Amenities include swimming, tennis, and golf with memberships available.
---

MARSH HALL: Price range: High 100,000s to $225,000
Marsh Hall offers 3 and 4 bedroom traditional style homes in a prime location, with convenient access to shopping and major roadways in the North Charleston area, off of Dorchester Road. Schools are in the awarding winning Dorchester II district.
---

SCOTT'S MILL: Price range: $150,000-$200,000
Scott's Mill features lovely, suburban homes with 3, 4, and 5 bedrooms that are reasonably priced yet don't sacrifice quality. Homes feature modern amenities such as eat in kitchens with bars, formal living room and dining room, large patios, formal master bedrooms with luxury bathrooms, walk in closets, and vaulted ceilings. This community is located just moments away from the shopping, restaurants, and churches of charming Summerville.
---

ST. PHILLIPS PLACE: Price range: $130,000-$250,000
Charleston style, single family homes in a sidewalk community just off Trolley Road in Summerville. Open and airy floor plans have many custom features. Located in the Summerville school area near Trident Medical, shopping, theater, nature trails, golf and easy access to I-26.
---

SUMMER GLEN: Price range: $138,000-$190,000
Summer Glen offers brand new, affordable living with open floor plans with great room and lovely master suites, all in the heart of Summerville. Great extras include pantries, cathedral ceilings, custom oak cabinets, hardwood foyers, and patios. Most plans are 3 bedroom, with at least 2 full baths, 1,300-2,100 square feet of living space, and a 2 car garage.
---

SUMMER TRACE: Price range: $200,000-$250,000
This lovely neighborhood is conveniently located off of Trolley Road in the heart of Summerville. Homes have 3-5 bedrooms and 2-3 bathrooms with many of today's modern features such as eat in kitchen, great rooms, luxurious master suites with spacious walk in closets, garden tubs, French doors and more. The development is tucked into an area where much of the natural habitat was maintained and, as such, many of the lots front natural wetlands as well as a three and one-half acre pond. Summer Trace is in the Dorchester County District II school district, which has some of the best public schools in the Charleston area. A very reasonable $100/year homeowners' association maintains common areas.
---

SUNBURST LAKES: Price range: $155,000-$200,000
Sunburst Lakes is a quiet, secluded community of traditional Charleston and ranch style homes offering a lovely, natural setting of ponds and woods that is centrally located close to wonderful schools and shopping. Choose from multiple floorplans to accommodate your lifestyle with 3 and 4 bedroom, 2-2.5 bath homes ranging in size from approximately 1,300-2,200 square feet. All homes are built with either a 1.5 or 2 car garage and amenities include fireplaces, garden baths and screened porches. Sunburst Lakes also features a swimming pool, club house, and play park.
---

WESCOTT PLANTATION: Price range: $135,000-$325,000
Wescott in Summerville offers both townhomes and single family homes ranging from 3 bedrooms/2 bathrooms to five bedrooms/3.5 bathrooms. The development is relatively new; the oldest homes were built in 2000 and some are expected to be completed in 2006. The community features a 27-hole golf course and clubhouse with memberships available as well as pool, clubhouse and play area
---

WHITE GABLES: Price range: $185,000 to $260,000
Located in Summerville and built by Saussy Burbank, this absolutely darling neighborhood offers beautiful, traditional, Lowcountry style homes that are very well constructed with hardi-plank siding and an excellent finish. The neighborhood features a tennis court, play park and a club house with an Olympic size swimming pool. This is truly one of our favorite neighborhoods in the area, and we believe White Gables provides an excellent value as the homes in this charming neighborhood are priced at only.
---
West Ashley Real Estate:
---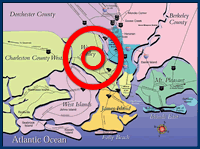 West Ashley refers to the area west of the Charleston peninsula, bordered by the Ashley River and Intracoastal Waterway, which is commonly referred to as the "ICW". It is the oldest suburb in Charleston and is located the closest to downtown. A vast selection of reasonably priced homes in desirable neighborhoods is available as well as luxurious waterfront homes on the Ashley River, creeks, and tidal marshes. Due to high demand, new construction is ongoing. Many neighborhoods feature such amenities as golf, tennis, swimming and boat docks as boating on the River is extremely popular. The demand for homes on deep water is very high.
---

GRAND OAKS PLANTATION: Price range: $150,000-$285,000
This newer development of traditional style homes is just off Bee's Ferry Road and Glen McConnell Parkway in the Ashley River Historic District. Beautiful homesites and distinctive architectural designs offer spacious, open floorplans of homes ranging in size from 1,200 to 2,400 square feet. With the attractive prices, this community is perfect for first time home buyers and is also very family friendly. Community amenities include swimming pool, club house, and play park.
---

HUNT CLUB: Prices range: upper $360s-$500,000.
Located in West Ashley, this 500+ acre development gets its name from the property's previous use as a private hunting area. The property is comprised of virtually 300 acres of natural preserve including ponds, wetlands and fields of palmettos and there are approximately 450 custom, traditional, Lowcountry style, family oriented homes built by five participating builders.
---

INDIGO ON THE ASHLEY: Price range: $260,000-$505,000
Conveniently located off of Dorchester Road and above Ashley Phosphate Road, just 15-20 minutes from downtown Charleston and all that it has to offer. Lots are 1/3+ acres, some of them wooded, and there are eight distinctive floors plans ranging in size from 1,800 to 2,700 square feet. Because the neighborhood layout includes three cul-de-sacs, a six acre green space and there is no through traffic, as well as the fact that it lies in the Dorchester II school district, this would be considered an ideal and safe spot to raise your family.
---

RADCLIFFE PLACE: Price range: Low $200,000s
Located off of Bees Ferry Road in West Ashley, this cute, traditional style condominium/town home neighborhood offers 2 and 3 bedroom/2-2.5 bath units that range in size from approximately 1,000-1,700 square feet.
---

SCHIEVELING PLANTATION: Price range: $220,000 to the mid $450,000s
A newer community in West Ashley, located on Highway 61 just past Bee's Ferry Road and the I-526 connector. This neighborhood features traditional style homes with Hardiplank siding and many with wrap around front porches, tin roofs, and screened in porches. Lots and homes are offered including marsh lots boasting expansive views of the Ashley River. The entrance to the community is studded with graceful, mature oaks and amenities include a lovely, traditional style club house, swimming pool, and open park areas.
---

SHADOWMOSS: Price range: mid $200,000s to high $400,000s
Shadowmoss is an easily accessible golf community in West Ashley and one of Charleston's largest, established neighborhoods. Homes are on generous lots by woods, on the golf course, or on reflecting ponds. Square footage ranges from 1,803 to 2,727.