06/05/08
09:38:43 pm, Categories:
$ Value Priced
Mimi's Cafe/ Creekside :: James Island, SC
Entrées $10-$15
James Island. 1241 Harborview Road. 795-4090
Lunch, Dinner, and Saturday and Sunday Brunch
For the last few years or so Mimi's has established itself as the go-to restaurant for James Islanders looking for a good meal at reasonable prices. The menu is simple with just enough variety. The setting is casual with great views overlooking the marsh and James Island/Ellis Creek. With a screened-in porch and a back deck that juts out over the marsh what more could you ask for? Run by sisters Monique and Mimi Duffy, the cafe is most welcoming. They feature an ever-changing specials board of seafood, steaks, pork, and pasta dishes. They have a great happy hour and the appetizers are half price. My group of girls meets there pretty regularly on Wednesday evenings. Troy is the bartender and he knows what you're drinking before you do and you never see the bottom of your glass. He's cute too!
04/05/06
01:34:44 pm, Categories:
$ Value Priced
One Center St. Oceanfront Bar - Holiday Inn - Folly Beach SC


Alicia's Review - Good:
One Center Street
1 Center Street
Folly Beach, SC 29439
(843) 588-6464
------------------------------------------------------
UPDATE: 6/01/06
This review has been downgraded from Excellent to very good due to the firing of the manager that made it what it was, Mel
-------------------------------------------------------
I love, love, love One Center Street, also known as "that downstairs bar at the Holiday Inn". What do I love about it? First of all, I love the beach and I am always happy when I am looking out over the water, listening to the waves crashing and smelling the salty, ocean air while enjoying a nice, cold beer. There are surprisingly few restaurants/bars where you can do this in Charleston so this is a unique and special spot. In the summer, they even have a Tiki bar where you can get a beer or drink to quench your thirst on those hot, humid days at the beach.
Secondly, I love the casualness of One Center. You can go in there in a pair of sweats or shorts, a bikini top or t-shirt and flip flops or even just your swimsuit and sandals – whatever – and you'll feel comfortable. Along with this, and granted, I do go there a lot so I have gotten to know everyone who works there but I am going to make the bold statement that I don't think you will get better service anywhere. I go there with different friends and many of them drink the same thing every time so my favorite gal, Caroline, sees them and just pops the top of their usual drink. For me, I switch things up a little so she'll confirm and there it is in front of me within moments. Even better, you never have to ask for another one, she watches you and keeps them coming until you tell her you're finished. That is what I call anticipatory service! Caroline is darling although I must be fair and say that Mel, the manager, has done a fabulous job building a great team. Heather is another one of our favorites and we have a great story about Heather. One night, we shut down the bar and the very next morning at the crack of dawn, we had to be at a company meeting at the Holiday Inn. We had had a few drinks that night and we asked who would be working in the morning. Lucky for us, Heather was and she promised she'd make us Bloody Marys if we wanted them. We were laughing about that story a couple months later and she told us, "And I would have, too!" Once again, that is what I call excellent service! I love a girl that will sneak cocktails into the company meeting for us! So, as I said Mel has built a team that is friendly, fun, great at what they do, and they always make you feel at home.
Last, but certainly not least, the food at One Center is great bar food. To be completely honest, I must admit that it isn't always consistent but that is OK because 95% of the time, it's great and the people and environment more than make up for that 5%. Some of my favorites are the Beach Burger, an 8 oz cheeseburger ($7.45 - I have had this many, many times and it's a fabulous burger), the Buffalo Shrimp ($6.95), the Fried Flounder sandwich ($7.95), Fried Calamari served with Jalapeno Jelly ($6.60, I have always loved this one, although my friends have had it on a night when it wasn't as great), the Killer Club Sandwich ($6.95), and the Mahi Mahi Bites served with honey mustard dipping sauce ($7.95). The Peel and Eat Shrimp are great if you want a lighter meal (1/3 lb for $6.95 or ½ lb. for $11.50), and the salads ($5.50 for the house) are very fresh and tasty, either as a starter or, for a meal if you add Chicken (additional $2) or Shrimp (additional $3.50). Enjoy, have fun, and say hey to Caroline, Heather & the girls for me!
04/04/06
02:37:39 pm, Categories:
$$$ Expensive
11 Center St. - Folly Beach SC - Wine and Tapas Bar


Alicia's Review - Wine List - Excellent:

Alicia's Review - Food - Very Good:

Alicia's Review - Overall Experience - Fair:
11 Center St. Wine and Tapas
11 Center Street
Folly Beach, SC 29439
1-(843) 588-9898
11 Center is sort of an anomaly in Folly Beach and, for awhile, I went there virtually every night for a dinner of tapas and good wine. They have a lovely wine bar with a great painting, and beautiful lighting, which makes for a pretty ambience.
The wine list is fabulous. It's extensive, most of the servers are somewhat knowledgeable, and, one thing I really love is that they have a market downstairs so you can pop in and pick up a bottle to take home with you – or take home a bottle of wine that you had with your dinner and loved so much you'd like to have another glass once at home. The prices are decent considering it's a retail store. You can find better prices elsewhere, of course, but it's definitely fair considering the convenience factor.
The food is fair to good. I really like the Tuna Tartare ($9) which is fresh sashimi, ginger, pineapple, red and green peppers and cilantro served with black pepper encrusted crackers. The Pan Seared Lamb Chops ($10 for two) served with wild mushroom risotto are also pretty good, as is the Antipasto ($7), marinated and grilled artichoke hearts, supersoata, salami, and smoked provolone cheese. However, I would pass on the Gourmet Cheese plate ($9) as there is nothing gourmet about this cheese plate. It came with the tiniest portion of cheese I have ever seen (and I have been to France too many times to count and am accustomed to small portions), along with way too many candied walnuts and grapes to go with the miniscule morsel of cheese they served. Speaking of French, we took some friends of ours from France there one night and they ordered the Steak Tartare ($8), had one bite and didn't touch the rest so, while I didn't try it personally, I wouldn't recommend that either.
The reason I don't go there with the same frequency as I did in the beginning is I don't feel the sense of hospitality as some of the other places I frequent. I have also written about One Center – a totally different crowd, totally different ambience – and, to be honest, I would have thought I would want to spend more time at 11 Center based on my personality and taste. But there is something to be said for feeling special when you're a regular and you just don't get that here. So for a more upscale experience on Folly Beach with "gourmet" food and wine, this is a fabulous spot to try.
02:11:34 pm, Categories:
$$ Moderately Priced
Saint Johns Cafe - John's Island, SC


Alicia's Review - Very Good:
St Johns Island Cafe
3140 Maybank Hwy
Johns Island, SC 29455
1-(843) 559-9090
My best friend was in town for a visit so I had an excuse to do lots of eating out last week and I have some fabulous new favorites.
We had a wonderful brunch at St. John's Café on Sunday morning. We arrived just before the church crowds but, even still, this is a popular place and we had to wait a couple of minutes for our table. We all wanted to have the same "entrée" so we decided to start off with an "appetizer" of raisin French Toast, served with an apple, cinnamon whipped butter as well as regular butter. It was light, fluffy, sweet – but not too - and delicious.
We followed up the French Toast with Crab Cakes Eggs Benedict. It was delightful. The crab cake was fresh, the hollandaise wonderful. My eggs were cooked perfectly, although my friends were a little overcooked. Our waitress was having a rough morning so we didn't ask her to take them back and we had plenty of food so I am not sure she even made it to the second egg anyway.
Because my best friend was in town and we did our fair share of "celebrating" her time here, I wanted to have a Bloody Mary with my brunch but they don't serve adult beverages on Sunday so if you like to have a Mimosa or Bloody Mary with your brunch, try St. John's Café on Saturday instead. During the warmer months, you can sit outside on the patio, which is a pretty setting.
Oh, I almost forgot. We had a star sighting while there…as we were leaving, we spotted Richard Davis from Flip This House having brunch with a small group. I am not much for getting excited about stars but A&E is my favorite station and I love Flip This House so it was kind of fun to see him having brunch at St. John's Café.
03/31/06
09:27:22 pm, Categories:
$ Value Priced
Cibos Pizza and Bistro - James Island SC


Alicia's Review - Very Good:
Cibo's Bistro and Pizzaria
608 Harbor View Rd
James Island, SC 29412
(843) 762-2003
Cibo's is a little, unassuming, dare I say "hole in the wall" on James Island that I would have driven right by had my good friend not taken me there one night. Thank goodness she did because I love it! Our server was a darling, young high school student with a strong, Southern accent who chewed gum throughout our meal. I say that with affection because it was part of the charm of our "Southern Italian" meal and she was so cute.
The portions are huge here - you could literally spend $10-$15 with drinks, leave full, and take home enough leftovers to eat at home for a number of days. We had a hard time deciding because of all the great options so we got a couple things and shared. The Lasagna ($6.25 for a small, $8.99 for a large - I would hate to see the large because the small was gargantuan for me) comes with fresh baked garlic bread and a "small" house or Caesar salad (the salad was a meal in and of itself). You can make your salad Greek for only $1 more, which my friend did and it was wonderful! It was topped with lots of purple onion, olives, fresh cucumbers and a good portion of feta cheese. The Lasagna was delicious, cooked perfectly, with lots of cheese, just the way I like it. It re-heated well at home, too.
It was very difficult to choose a pizza as they have so many great options. You can get a gourmet slice of all their pizzas for $2.99, a medium is $13.95 and a large is $14.95. Order a large and take home the leftovers - it re-heats well at home, just as the Lasagna does.
Our server suggested The Folly, a pizza topped with marinated chicken, onions, mushrooms and roasted red peppers. It is one of their best sellers and we were appreciative of the recommendation because, as I said, they have so many great options. I am not always fond of chicken on top of my pizza and I was very pleasantly surprised -- it was delicious!! One thing I really liked about it was that it had a pesto base rather than tomato base so it gave the pizza a wonderful flavor with the chicken and vegetables. The other bases they have are ricotta, garlic oil, BBQ and, of course, traditional tomato.
This is a great, local's place to go any night of the week or just to swing by and pick up a huge, inexpensive, delicious meal on the way home from work when you don't feel like cooking -- for at least two nights!
03/30/06
10:15:40 pm, Categories:
$$ Moderately Priced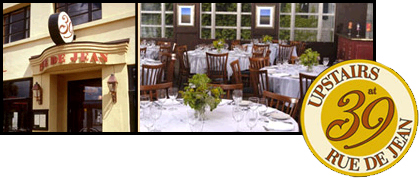 Alicia's Review - Excellent:
39 Rue de Jean
39 John St.
Charleston, SC 29403

Rue de Jean Menu

Rue de Jean Wine List

Laura (my best friend visiting from California) and I ate at Rue de Jean on her first night in town and we were not disappointed. Our waiter, Hy, was delightful and helpful in guiding us with our dinner choices.
As we perused the menu, we sipped icy cold Grey Goose martinis. We decided to share everything so we could try a few different things.
We started with the Roasted Beet and Butternut Squash Salad ($7.95) served with frisee lettuce and hazelnut vinaigrette and the Truffle Potato Soup ($5.50). I love beets and my friend prefers squash so it was a great choice and a lovely mix of flavors and enough salad to feel as though we got our greens in. The Truffle Potato Soup is divine, a smooth, velvety potato puree incorporated with chive crème fraiche and truffle oil.
For our entrees, we had a delicious NY Steak Au Poivres with frites ($24.95) as well as one of their evening specials, Mahi Mahi. The steak was cooked to perfection and was juicy, flavorful, and combined wonderfully with the homemade frites. The Mahi Mahi was wrapped in an absolutely delicious and delightfully salty piece of bacon, which gave a wonderful flavor to the perfectly cooked fish.
We struck up a conversation with the couple next to us, who said that the Filet Roquefort was to die for so if you like the flavor of a strong blue cheese, it sounds like this would be a great meal to try. I am looking forward to going back soon and trying it myself!
09:56:20 pm, Categories:
$$$ Expensive


Alicia's Review - Wonderful:
Blossom
171 East Bay Street
Charleston, SC 29401

Blossom Restaurant's Menu

Blossom Restaurant's Wine List

My best friend and I stopped into Blossom for an afternoon cocktail and snack on Monday afternoon and did we ever pick a good spot for that! I cannot wait to eat at Blossom again and I can't wait to try to make the Fried Green Tomato BLT at home, although I am not sure I will be able to replicate the deliciousness of their version.
I will start with the cocktails as I always love to talk about cocktails, almost as much as I like to talk about food. I had a Palmetto Amber, always a great beer. My friend had the Peach Bellini and raved about it so much that I tried a tiny sip and was tempted to stay for another round so I could have one all for myself. It was fresh and delicious like a chilled peach, slightly sweet but not sugary.
We ordered the Fried Green Tomato BLT and side of soup (soup and sandwich plate $12) thinking it would be a regular sized sandwich served on whole wheat with mayonnaise. Boy, were we in for a treat when our meal arrived.
The sandwich was petite with a wonderfully, big flavor. I was expecting regular bread but instead, they use very thin pieces of toasted cornbread and, rather than mayonnaise, a pimento spread which gave the sandwich a spicy kick. The bacon was crispy and flavorful. I think I could have eaten four of these sandwiches and trust me, I was tempted to stay and do so! It typically comes with a cucumber gazpacho but it was a chilly day and our waiter, Reid, offered to switch it out for a cup of sweet corn and blue crab chowder so we did that instead. It was a delicious snack and one I would highly recommend.
01/27/06
09:38:43 pm, Categories:
$ Value Priced
Osaka - James Island, SC - sushi restaurant


Alicia's Review - Very Good:
Osaka Restaurant
100 Folly Road
Charleston, SC 29412
Last night we enjoyed a delicious and reasonably priced sushi dinner at Osaka on James Island. Being from California originally (and having spent a little time in Japan), I must admit I was a little skeptical about "Southern Sushi". However, each time I enjoy Sushi here, I absolutely stand corrected and last night was no exception. Once again, I was reminded what a wonderfully metropolitan, cultural yet quaint and charming city Charleston is.
We were starving, so we sat down and ordered a Charleston roll ($8.95)as an appetizer right away. This delicious roll is stuffed with tempura salmon and has fresh tuna and a mild spicy sauce on top. For an entree we shared the Volcano Roll ($5) which consists of tempura tuna, lava sauce, flying fish eggs and scallions, the Crazy Tuna ($7.95) which is seared tuna with avocado inside with spicy tuna and crazy sauce on top, and completed wih flying fish eggs, scallions, and a light sprinkling of tempura flakes for a light crunch. Finally, for a lighter roll, we enjoyed Sake, just fresh, raw salmon on top of rice($3.75). I always love to order a variety of sushi that includes both "specialty" rolls which incorporate many different ingredients as well as simpler sushis such as the Sake and Tekka Maki rolls that are just made of delicious, clean, fresh fish. For me, this offers a nice balance of flavors during the meal and leaves me feeling satisfied but not uncomfortably full at the end of the meal.
Because I have only eaten at Osaka for lunch and during the week for dinner, I have never sampled their Saki choices but I am sure that based on their food, they have a well selected menu and I look forward to going back soon to sample the Sakis. Also, in addition to sushi, Osaka serves Chinese food (another cause for my skepticism at first - Chinese food in a restaurant called Osaka?? but I seem to be misguided about this, too). Many of the patrons were ordering Chinese dishes and they looked absolutely wonderful, so I am anxious to visit Osaka again soon. As though I need an excuse, putting "Chinese dinner at Osaka" on my restaurant list just gives me another reason not to cook!
01/09/06
10:38:38 pm, Categories:
$$$ Expensive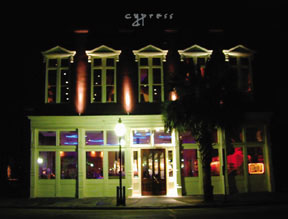 Alicia's Review - Wonderful:

Cypress Menu

Cypress Wine List

What a delightful and romantic evening we spent dining at Cypress. We were seated immediately and greeted by our waitress, Phyllis, who was professional and polished, yet warm and personable -I would highly recommend asking for her as she helped to round out a lovely dining experience with her expertise and personality.
We started off with a bottle of Veuve Cliquot (Yellow Label, $75) - always a great way to begin a meal in my opinion - along with our appetizer selections, the Asian Tuna Tartare ($10) and the Vietnamese Beef Spring Rolls ($9). I like to try the tuna tartare at every good restaurant and it was delicious here, although we both agreed that the Spring Rolls were our favorite.
Cypress has an extensive wine list, with over 4,500 well chosen selections from all over the world which are beautifully displayed on a floor to ceiling wine wall. I wish I could remember what wine we had that night but this was three months ago now and I do not. What I can tell you is that we took Phyllis' suggestion and here is something I am always impressed with: we had picked out a wine and, after hearing what we had chosen for our entrees, Phyllis suggested a wine that had just come in, was not on their list, and was less expensive than what we had originally chosen (approximately $50). It paired beautifully with the tender, melt in your mouth Garlic and Herb wrapped rack of lamb, prepared tableside for two ($34/person).
We ended our dinner with a to-die-for warm chocolate molten cake ($9) and delicious vanilla creme brulee ($8), and of course, the rest of our wine. I am always happy when my meal includes a tender and flavorful meat selection, champagne and/or red wine, chocolate in some form, and, of course, wonderful company so I left Cypress feeling VERY happy as our meal included all of the above!
charleston sc real estate - Google
charleston south carolina real estate
charleston real estate - Dmoz.org
Charleston Real Estate - Yahoo
folly beach sc real estate - Dmoz
Folly Beach Real Estate - Yahoo
Folly Beach real estate - Google