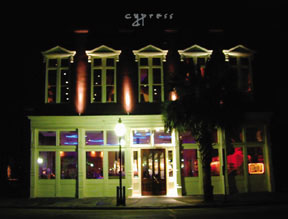 Alicia's Review - Wonderful:

Cypress Menu

Cypress Wine List

What a delightful and romantic evening we spent dining at Cypress. We were seated immediately and greeted by our waitress, Phyllis, who was professional and polished, yet warm and personable -I would highly recommend asking for her as she helped to round out a lovely dining experience with her expertise and personality.
We started off with a bottle of Veuve Cliquot (Yellow Label, $75) - always a great way to begin a meal in my opinion - along with our appetizer selections, the Asian Tuna Tartare ($10) and the Vietnamese Beef Spring Rolls ($9). I like to try the tuna tartare at every good restaurant and it was delicious here, although we both agreed that the Spring Rolls were our favorite.
Cypress has an extensive wine list, with over 4,500 well chosen selections from all over the world which are beautifully displayed on a floor to ceiling wine wall. I wish I could remember what wine we had that night but this was three months ago now and I do not. What I can tell you is that we took Phyllis' suggestion and here is something I am always impressed with: we had picked out a wine and, after hearing what we had chosen for our entrees, Phyllis suggested a wine that had just come in, was not on their list, and was less expensive than what we had originally chosen (approximately $50). It paired beautifully with the tender, melt in your mouth Garlic and Herb wrapped rack of lamb, prepared tableside for two ($34/person).
We ended our dinner with a to-die-for warm chocolate molten cake ($9) and delicious vanilla creme brulee ($8), and of course, the rest of our wine. I am always happy when my meal includes a tender and flavorful meat selection, champagne and/or red wine, chocolate in some form, and, of course, wonderful company so I left Cypress feeling VERY happy as our meal included all of the above!